Evening everyone, it's that time again where we round up the weekly Halo news and bundle it up in text and image form for your occular receptors to enjoy.
APRIL FOOLS
Ok, got that one out the way.
HCS World Finals was last week and if you don't want spoilers, skip this section!
It was the Green Wall Optic Gaming who took the crown, beating a very strong Team EnVyus in a 4-0 series to take home $500,000. EnVyus were looking strong having a good lead in the first three games, but the Green Wall pushed back hard to take each game from behind (stop sniggering in the back!). Over the course of the entire event, Optic only managed to drop 2 games, which is an impressive feat to say the least. It was a well attended event even with attempts for certain people to make it seem otherwise. It could have probably been held in a nicer place (EU finals were in Wembley Stadium of all places!) but it seems there were possibly some issues with trying to get a good location to host, but hopefully next time they'll be bigger, better and bolder.
See the full event results below: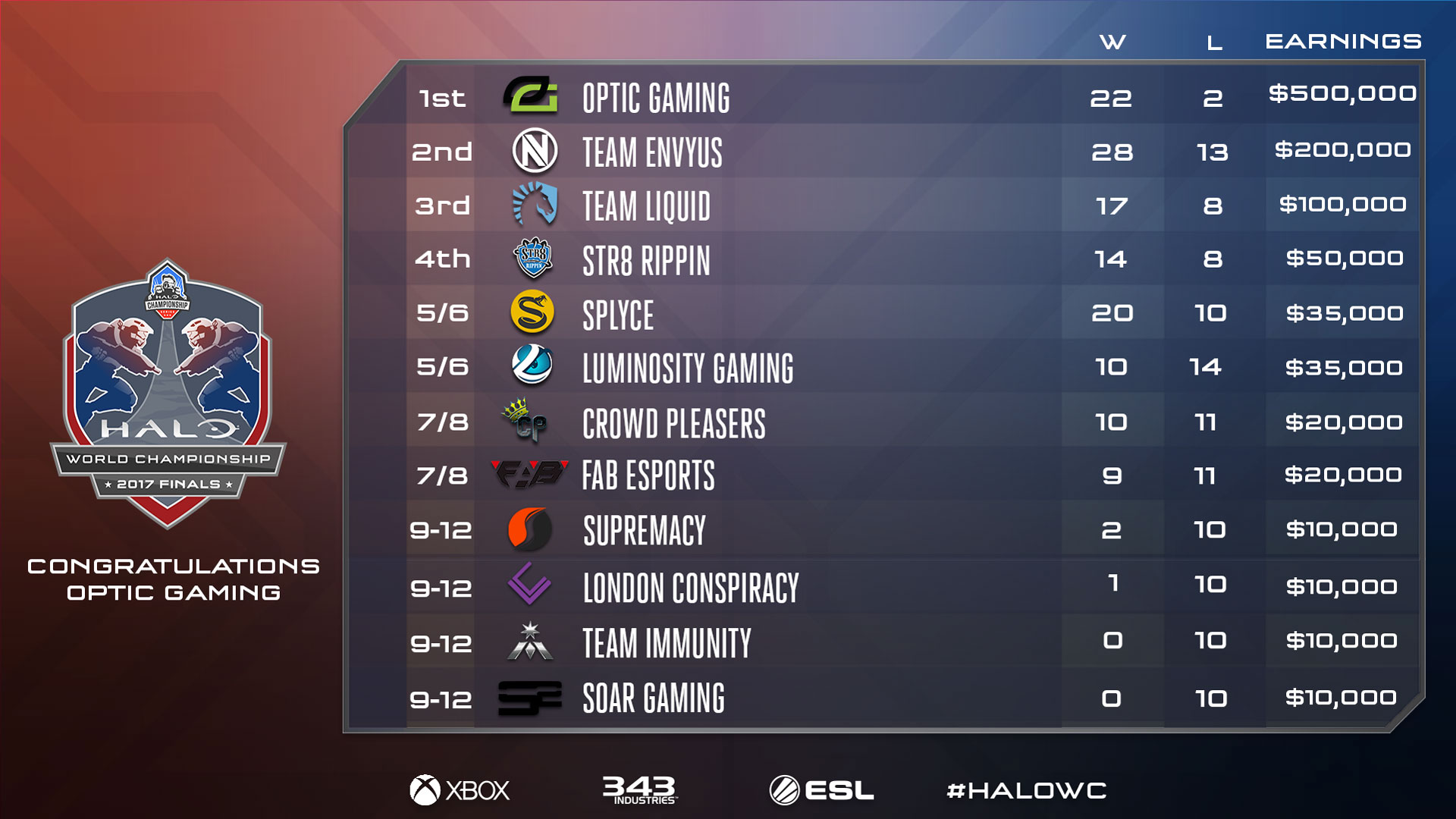 If you fancy having a crack at Halo Competitive yourself, get your butt down to HCS Daytona, sponsored by UMG where there will be open 4v4 and FFA tournaments with prize pools of $75,000 and $5,000. It's being held in the Ocean Arena in Daytona Beach, Florida.
The summer and fall Pro League Circuits are also being finalised so keep your ears to the skies and look out for the full roadmap on
http://Halo.gg
in the coming weeks.
For an actual April Fools joke, the US Marines uploaded the following onto their instagram:
If only marines looked that cool...
Reddit also had an interesting little thing going on with /r/place, where users were allowed to place one pixel every 5 minutes. What started as a bunch of random pixels turned into a work of art, with all kinds of communities being represented. Halo was of course on there getting both #fixmcc and 1th onto the page, fighting for space with Funhaus and Cow Chop for those precious pixels. Shoutout to weird stuff like /r/satania and an amazing pixel art of Van Gogh's Starry Night for surviving in that hostile world. If you don't know what the first one is, it's anime.
Check out the completed masterpiece here:
https://www.reddit.com/r/place/
Destiny 2 was also announced with a pretty epic reveal trailer showing some angry space turtles called Gary smashing the tower to bits and Commander Zavala and wiley fox Cayde-6 rallying the troops. Also, there will be a ton of loot!
The Destiny age of Triumph is also running, with a new record book, raids updated to current light levels and challenge modes added to the Crota's End and Vault of Glass raids, with some sexy looking armour added as rewards and most importantly: Elemental primaries! Fill your boots with loot guardians.
Check out this dancing couple and a weird guy proposing to me for the video this week:
​
That's all from me this week, see you next time, it'll be on time, I promise*