Welcome back everyone! After weeks of deliberation, discussion, and rigorous testing, we are excited to finally reveal the winners of the Meet Your Maker: Big Team Battle Forge Contest! With over 50 submissions from a wide variety of forgers we had our work cut out for us in picking just three to showcase. The three winners listed below are in no particular order, and are considered to be on equal footing with one another. Without further ado, here are the top three maps!
Echoes - by The Grim Dealer
Echoes is a canyon style BTB map reminiscent of older designs such as Valhalla, while also taking inspiration from Halo CE's campaign spaces. Echoes is notable for having much more geometry breaking up the canyon itself, establishing clear lanes of travel, blocking longer lines of sight, and allowing for greater vertical overlap. The lowland basew take inspiration from prior canyon maps but also improve on them, with a protected yet accessible interior and a large overhang that provides cover from the neutral banshee. Each base is outfitted with a Rocket Warthog, a Ghost, and a Wargoose. A Sniper and a neutral Spartan Laser can be found across from the banshee at top mid. Echoes plays best for Capture the Flag games, but also supports slayer.
Echoes shows that there is always room to improve upon tried and true design formulas. By introducing new elements and finding solutions to the problems of its predecessors, Echoes succeeds at breathing new life into a classic genre.
Traffic Jam - by IMAROLLINGSTONE & STUNT ARTIST
Traffic Jam is a smaller, urban BTB map inspired by the busy streets of New Mombassa from Halo 2 and Halo 3: ODST. The map is inversely symmetrical and split into several interlacing vertical levels, which are accessible to infantry as well as vehicles like the Rocket Warthogs and Ghosts. A large bowl between the bases offers open space for driving, as well as a fast yet dangerous flag route through the middle. A three-tiered structure in mid houses a SPNKR Rocket Launcher and also acts as a power position over each base. Roads and alleys snake off from the middle and around the backs of the bases, underneath them, and above them allowing for a variety of approaches on the flag spawn. Many tactical jumps allow for risky but quick routes in and out of the bases for those with the skill to pull them off.
Traffic Jam was one of the most polished maps submitted to the contest, showing the importance of continuous testing. With its hilly streets, twisting tunnels, and sweeping overpasses, Traffic Jam is the epitome of an urban BTB map.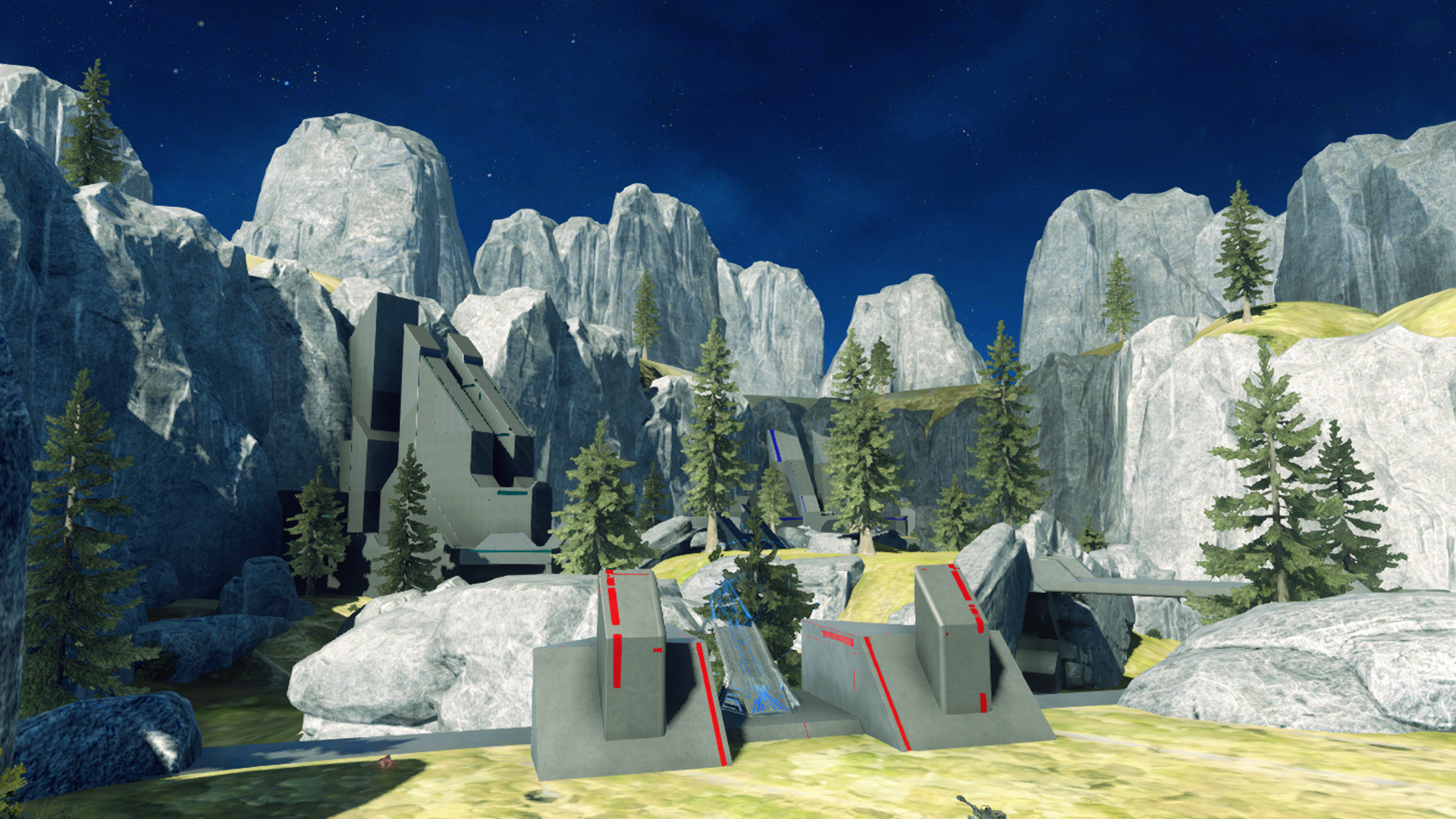 Dispelled - by TimeDipper
Dispelled is a massive, forerunner-inspired map that accentuates the qualities of a classic BTB map. Its massive footprint and mix of sprawling hills and tight interiors harken back to maps like Blood Gulch and Waterworks. With a sandbox that features Scorpion Tanks, Wasps, Warthogs, Ghosts, and Wargooses, as well as an Incineration Cannon, Rockets, Sniper Rifles, and more, Dispelled offers a vast array of options for players looking to mix up their play styles. The many tunnels, catwalks, and man cannons make it easy for infantry to move across the map without being overwhelmed by the vehicular mayhem. Dispelled's primary objective mode is Capture the Flag, however it also plays very well for Slayer games.
Dispelled proves that very large, classic style BTB maps can both support casual vehicular mayhem and competitive, strategic plays. By balancing so many different parts of the sandbox in one massive play space, Dispelled offers a huge variety of unique experiences to be had.
We'd like to thank everyone who was involved in this contest, from the other judges, to our partners on YouTube and on other community forums, to those who submitted maps, and to all of you who even just read about the contest and thought that it was neat. The event has been a very positive experience for everyone involved, and I'm glad that we were able to inspire so many new or lesser-known forgers to build and submit maps. Now that the contest is over we are free to give feedback on all of these maps once again, so feel free to ask Flying Shoe ILR, The Psycho Duck, or Matclan x MT for feedback! We will continue to work with you all and we hope that many of the maps that were not in the top three will eventually reach the same level of quality as our winners today.
We'll be contacting all of the winning forgers and sending out prizes very soon. Each will receive a Halo poster hand-signed by 343 Industries as well as a Req pack bundle.
See you all out there!