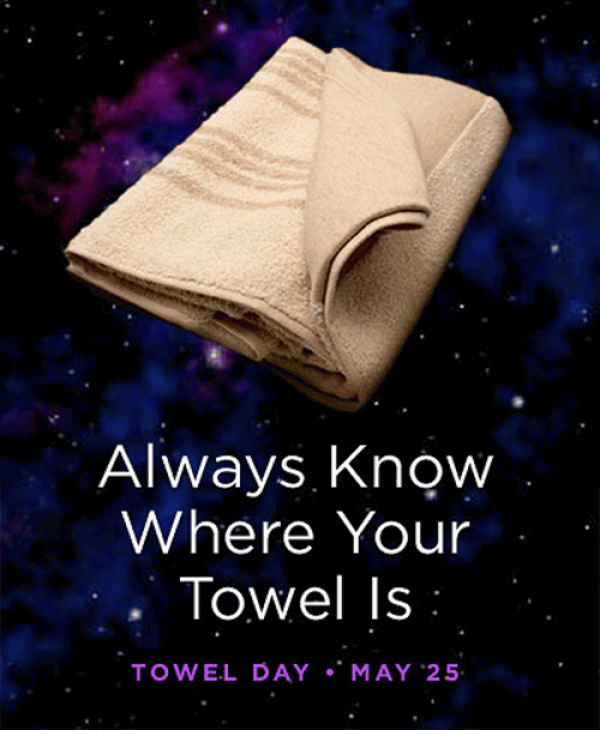 ​
The HaloCustoms staff would like to wish all of you hoopy froods out there a most magnificent Towel Day! Every year on May 25th (Earth calendar), interstellar hitchhikers such as ourselves take some time out of our day to appreciate the wondrous invention that is the towel. If you are new to the art of towelistry, or just looking for a refresher, here are some common uses for what is about the most massively useful thing one can have:
​
So how does one go about celebrating this occasion? First and foremost: ALWAYS KNOW WHERE YOUR TOWEL IS! Keeping a towel with you for the entirety of the day isn't necessary, but yes it is, obviously, quite necessary, and I was lying to you when I said it wasn't. If you are looking to liven things up a bit, you could try preparing a
Pan-Galactic Gargle Blaster
, the drink described as the alcoholic equivalent of a mugging; expensive and bad for the head. For a more relaxing experience, raise your thumb and see where hitchhiking can take you, such as down the road 3 blocks before you are kicked out for your terrible singing voice, or kidnapped and held for ransom by Australian candy burglars.
However you choose to celebrate, make sure you have Zarking good time this Towel Day!