FORE! Grab your golf clubs, put on your tweed jacket and suade shoes with those little spikes on the bottom. It's off to the golf course for another round of the HaloCustoms weekly roundup.
The first hole of the front 9 is a Par 4 with a water hazard and cunningly placed man cannons that if you're not careful can set you back a couple of strokes. That's right, all the golfing jargon means the HaloCustoms Par for the Course Battle Golf Forging contest is back. This time it's better than ever, thanks to our wonderful admin
Psychoduck
. He's been in touch with the guys over at 343 Industries and managed to wrangle us up some decent prizes!
This event was announced a while back but put on hold due to some issues with the contest but those have now been resolved and we're ready to have another swing at it. There were some cool maps submitted to the previous iteration of the competition, I hope that the rest of the maps submitted are up to the same standard. Join in and submit your amazing maps and make our judges work as hard as possible!
To read more about the contest and find out how to enter, visit our news thread for all the contest info including rules, resources and judging information.
Click here to read more!
Be sure to check out the awesome trailer here too:
Halo Wars 2 is still going strong, and it will be receiving another balance patch in the near future to buff and nerf units that have changed in effectiveness since the latest two DLC leaders (Kinsano and Colony) were added, to keep the game in perfect balance within it's rock-paper-scissors three-way balancing concept. When this patch goes live, it will be a tiny update with the rest happening behind the scenes, so there won't be any huge files for players to download.
Here's a short list of some of the changes:
Kinsano Cyclops - Flamewall ability cooldown increased from 45 to 60 seconds
Kinsano Cyclops - Flamewall damage to buildings reduced by 70%(!)
Flamehog with Flame Mortar - Damage over time effect reduced damage by 35%, damaged vs buildings reduced by 40%
Flamehog with Flame Mortar - Range decreased by 14%
Colony Hunter Captain - Move speed increased by 19%
Colony Skitterer - Now receives upgrade benefits from Global Vehicle Upgrades (bug fix)
Colony Vehicle Symbiotes - No longer shows buff effect through Fog of War (bug fix)
Banished Grunts - Banished leaders start with 3 grunt squads instead of 2
Resource gathering increased by 32%
Banished Engineers - Health reduced by 20%
Banished Hunters - Speed increased 15%
Banished Brute Chopper - Move speed increased 11%
Banished Brute Chopper - Explosive rounds upgrade increases damage by 15%
UNSC Jackrabbit - DPS increased by 15%
UNSC Scorpion - Health increased 10%
UNSC Scorpion - Cannon DPS increased by 10%
UNSC Scorpion - Unit ability Canister Shell now fires almost instantly (bug fix)
For the full list, check out the Halo Community Update
here
.

On the back 9 this week it's May's Games with Gold on Xbox Live. May the 4th (be with you) is unofficially Star Wars day and to go with that two of the games featured this month are Star Wars games, both for the Xbox 360. May 1st to 15th we have Star Wars: Force Unleashed 2 and May 16th to May 31st we have Lego Star Wars: The Complete Saga. Both were amazing games back when they were released, with Force Unleashed 2 being a follow up to the game with the same name, which saw you as Darth Vader's secret apprentice. This time you're playing as a clone of the player from the first game, trying to escape from Vader and having to choose which side to take. Everyone loves Lego as well, so blend it with Star Wars and you're onto a winning formula with a game that covers all six episodes and has a huge cast of playable characters each with different abilities.
For Xbox one this month we have two games that are completely unrelated to Star Wars, but instead both have female protagonists. First up from May 1st to May 15th we have Giana Sisters: Twisted Dreams - Directors Cut. A platformer about being able to manipulate dreams and change between "Cute" and "Punk" personals to rescue your friends, if you're into platformers this might be one for you. From May 16th to May 31st we've got the venerable Lara Croft and the Temple of Osiris. No it's not a Destiny spin off, you'll be fighting with and against Egyptian gods battling in ancient tombs to recover the fragments of Osiris to stop humanity being enslaved.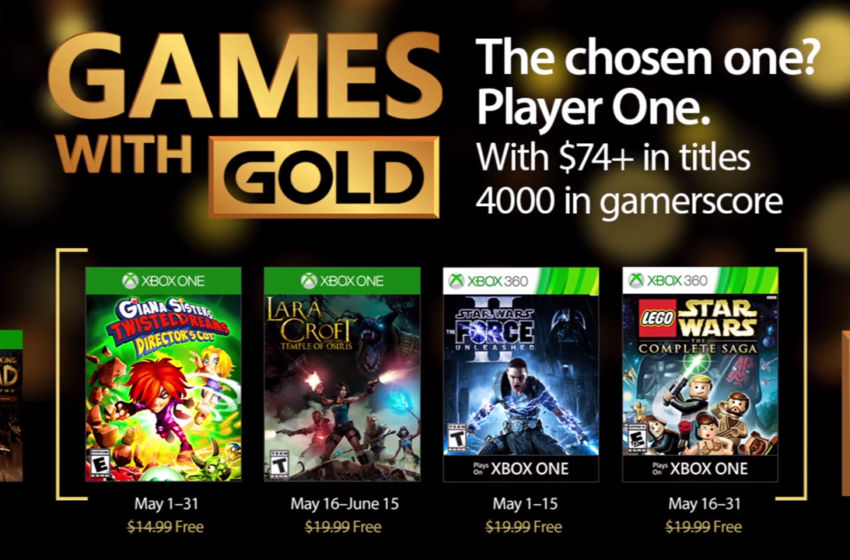 HCS Daytona is fast approaching, starting up the Summer pro league season with a tournament to get things going, and where better to start a summer event than the Sunshine State? 7 pro teams and one wildcard entry decided by an open 4v4 tournament will be playing for the chance to win $24,000, with the total prize pool being $75,000! There will also be an FFA tournament running with a total prize pool of $5,000, with the winner taking home $2,000. Be sure to tune in on Twitch and Beam to catch all the action!
For our community video this week, some naughty man cannons playing tricks during a game of Battle Golf!
​
That's all from me this week, see you on the putting green Spartans!