My fellow community members, as we enter the eventful month of September, we want each and every one of you reading this to look at yourself for a good minute. We are 110% serious. We encourage everybody to get a mirror, stimulate your mind and soul, suit up and ready your bodies for what's to come soon™. In this address, we will go over the recent changes to HaloCustoms, the Meet Your Maker Forge Contest and upcoming updates & additions to Halo 5. Welcome to this HaloCustoms State of the Union address.
State of HaloCustoms and Staff
​
Staff Changes
In the past month and a half since our last site update, some of you may have noticed a few changes have taken place behind-the-scenes and to the face of HaloCustoms. To begin, our very own British Rockband rockstar,
adderrson
has recently been pushed through the fruit transformation machine and has moved up to the ranks of site admin to assist us in technical upgrades to the site (more on that later). In sadder news, our favorite
Irishman
Potato,
SOLIDSNAKEee
has left the ranks of staff and became a blueberry once more. He has understandably left on his own terms for personal reasons, but do not fret! He is still very much active and you can
probably
speak to him in the shoutbox at this moment. As with many departures, we have a new arrival to the staff team! Many of you may know him after winning the Best Forge Map of All Time Awards
*
of
2013
,
2014
,
2015
and
2016
with his map, Stigma. Give it up for our newest staff member,
Squally DaBeanz
! May the fruits of his new coveted orange title bless him with corruption.
*

- not a real award
YouTube Channel
I know many of you may be concerned about the current status of the HaloCustoms YouTube channel and its recent inactivity. Allow me to explain ourselves. While the channel has not had any recent uploads, it is still very-much alive. Furthermore, a few changes have taken place to the team behind the channel. At this point,
HAL0 M4N
and SOLIDSNAKEee have understandably chose to leave and stopped producing content due to personal reasons and we wish them all the best. Snake is still around in helping motivate us and organize things behind-the-scenes. As for myself, I have been too preoccupied with work since late May, working nearly 6 days or more a week. I apologize for the excessive inactivity, however, as with most seasonal jobs, mine fortunately ends next week. However, we have recently recruited two new members to the media team to help produce new content for the channel. We would like to introduce everybody once more to Squally DaBeanz and everybody's favorite community troll,
Yeti
to the HaloCustoms YouTube media team! We're all excited to bring you new content to the channel very soon!
Site Upgrades
Recently, the face of the site received a new,
immersive
exciting feature. Along with the much awaited return of our
OG Customs
interface, we have added a new Stream portal that you can check out
right here
(you can also find it in the site navigation bar)! This new stream directory lists every Halo-related stream on Twitch.tv and allows you to view any stream without ever leaving the site. Is 343 Industries streaming about a new Halo 5 update? Simply head over to the stream here and go insane in the shoutbox when something new gets unveiled! The stream directory organizes Halo livestreams by all Halo-related livestreams, our featured streams (HC Official, 343 Industries, community members, partners), recent Halo titles (Halo 5, MCC), legacy Halo titles (Halo: Reach, Halo 4, etc.) and spin-off Halo games (Spartan Strike, Spartan Assault, etc.).
When one of our featured streams are live, you will also see a notification in the 'Streams' tab.
​
Soon enough, we will see another upgrade to the front page of HaloCustoms. This upgrade is essentially a refresh to the front page which will show users upcoming customs and popular streams and will give us staffers more power and control over what content is on the front page to keep the level of staff corruption
just right
.
Meet Your Maker Contest
Contest Update
Back in late May,
we announced
the Meet Your Maker: Big Team Battle Forge Contest in partnership with
BigTeamBattle.net
,
343 Industries Community Forum
,
Unsorted Gaming
,
Ultimate Halo
,
ZannyVids
and
Vetoed
(that was quite a mouthful, I know). The submission deadline has already came and went at the beginning of this August. At this time, ourselves and our partners are currently in the final process of wrapping up the contest! There is so much I want to say right now but I'm
biting my tongue
chewing my fingers off to keep from spoiling anything. Anyway, we will be announcing the winners very soon, so stay tuned!
Anvil's Legacy Update and Halo 5: Forge for Windows 10
​
Anvil's Legacy
Did you think the content drops for Halo 5 were over? Think again! Soon enough, a brand-spanking new content update for Halo 5 will be upon us! This update will include two "new" maps, a gorgeous remake of 'Haven' from
[THAT GAME WE DON'T TALK ABOUT]
and a Warzone Assault remix of 'Attack on Sanctum'. In addition, we will see new REQs, and the long awaited content browser (!!) will arrive along with saved object groups on September 8th! You can read more about this upcoming update right on over.....................................
here
. In addition, 343 Industries will be hosting an Anvil's Legacy livestream starting September 6th at 5pm EST! Be sure to use our streams portal when they're live!
Halo 5: Forge for Windows 10
The best has been saved for last. At last we are less than two weeks away from the launch of Halo 5: Forge! It doesn't seem too long but a few months ago,
Halo 5: Forge
was first announced and we all collectively lost our minds. Coming this September 8th alongside the Anvil's Legacy update, our PCs will be blessed by the glory that is Halo 5: Forge.
However
, before you can do so, your PC has to pass the minimum system requirements posted below.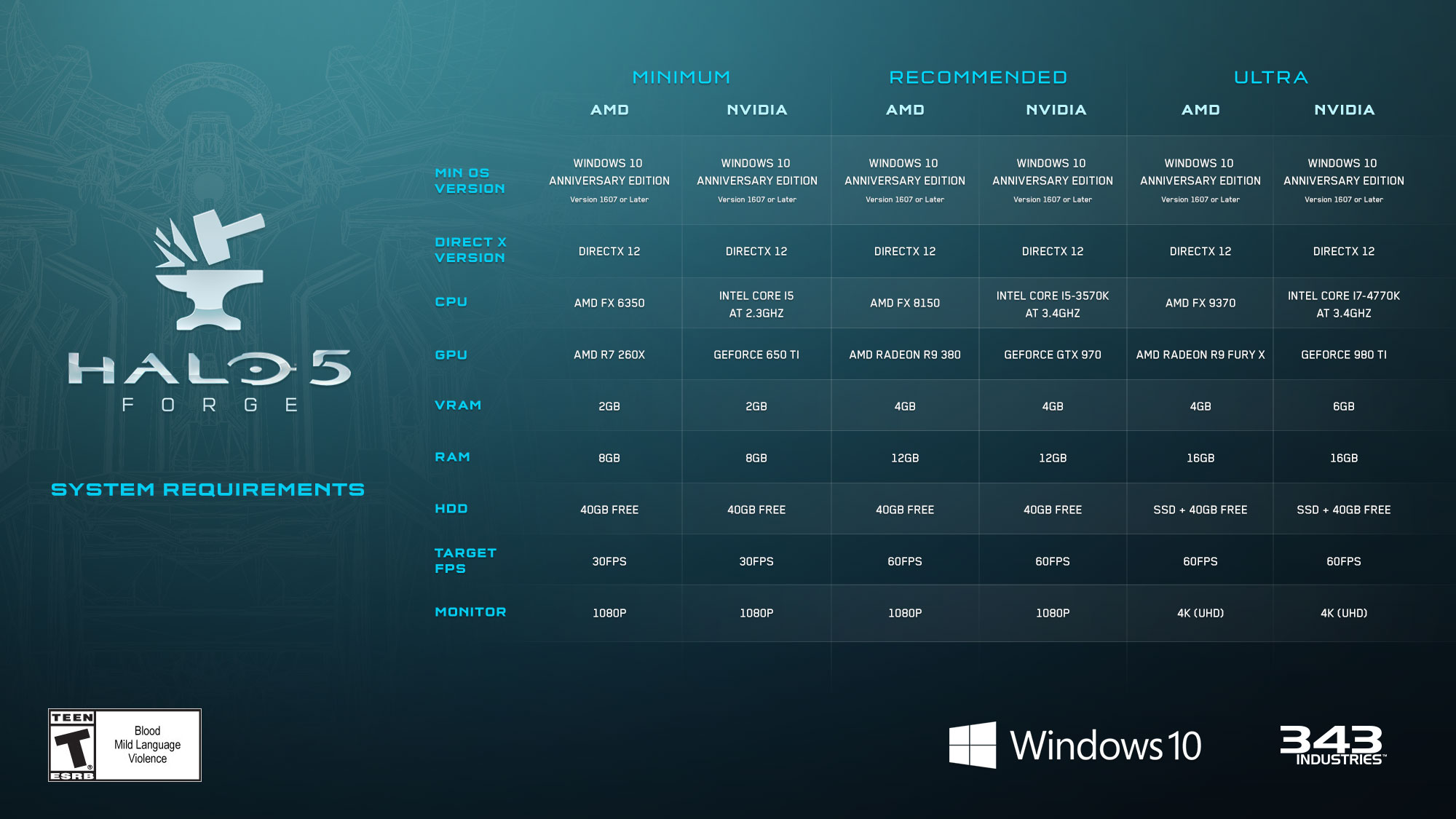 A gaming rig at the minimum spec provided will cost you roughly $500-$600 (USD).
​
As you may have realized, you will need a somewhat beefy computer to run this baby. Should you find your computer fortunate enough to run Halo 5: Forge on your PC, HaloCustoms has already prepared the impending launch of the game in our
custom games section
of the site. As Halo 5: Forge will come with no matchmaking or server browser, the only known option is to play with others is to manually invite other PC players to your custom game or forge session. Fortunately for you, we have just the platform here on HaloCustoms for you to do so!
Mark your calendars and
schedule some custom games ahead of time on September 8th
to prepare for the launch of Halo 5: Forge!
Rev up those hype trains
cause I am sure ready for September! How about everyone else?
In ending this State of the Union address, I leave you all with new smilies adderrson introduced to the site, but first, it is now time to all rise and take a moment of silence for our beloved friend and mentor, Harambe.
May the propane be with you,

Jesus in Malibu