Halo Customs

​
After last week's triple caption cascade of fun and good times, you probably thought you had seen all of our escapades on Sword Base...
​
This week we bring you a deleted scene from that adventure, where a few of our group decided to gang up on some poor defenseless Hunters with the vast industrial powerhouse that is the Halo: Reach forklift. Why would anyone be so cruel as to bully a Hunter? Why would anyone be so cruel as to take corky so near a Hunter? It is for you to decide!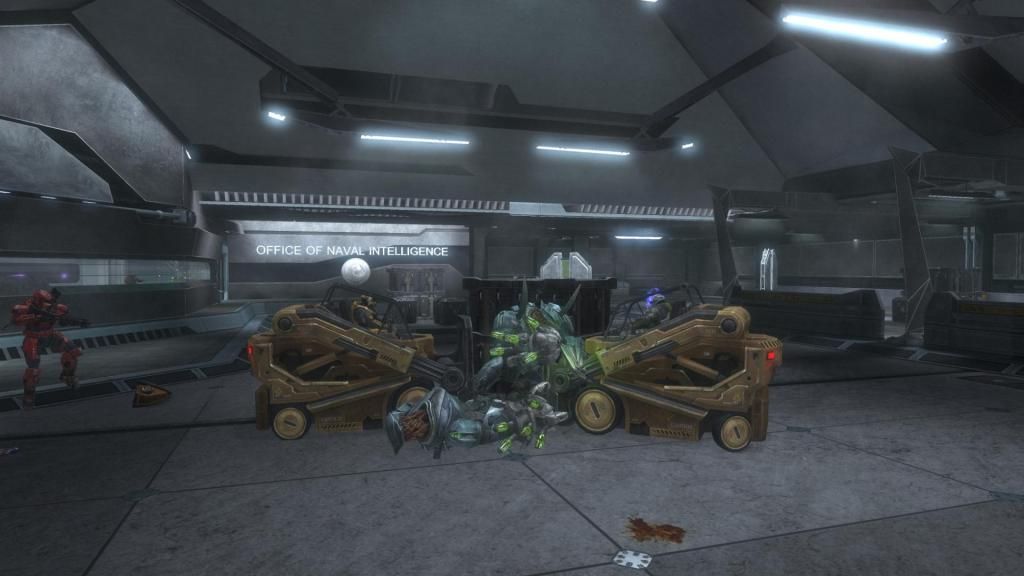 ​
This week we will also be doing text only captions. A lot of the images we have received as caption really haven't made any sense and we'd like to see a bit more effort put into the entries than simply copying a gif into the comments. We'll likely accept images in the future with the stipulation that they must fit well on risk of being deleted, but for this week it's all text. Happy captioning!
​
Rules:
1. Please submit only text comments as captions for the image above.
2. Submit only your best caption, only one caption will be accepted per user.
3. Submissions will be judged by a panel of staff based on how funny or fitting they are.

The results will be posted the following week, and the winner will receive a Contest Winner trophy. Good luck and happy captioning!​
Hey guys,
It's been an awesome ride, but there comes a time for everyone where they realize that Halo just isn't as big a part their life as it used to be. It's been an amazing experience being apart of this. I feel incredibly privileged to have been given the chance to be so much as a staff member here, but from this point onward I feel it would be nothing but dishonest to remain as such, let alone an Administrator, without the passion and ambition that was first there. Long story short, this is my resignation.
For the staff:
I'll see if I can blue myself again, though it may be that
Insane
will need to remove the admin abilities. Thanks so much Insane for the opportunity to be an administrator - a role I'd desired for so many years in the Halo Community. It's been a long and unique four year experience across both ForgeHub and HaloCustoms, and one of my fondest memories are of the first months following HC's release. The people, the electric potential, the games - and hell those Staff vs. Communities were a blast!
So thanks, everyone. I can't truly see myself buying an Xbox One and keeping up to date with all the new Halo titles. Priorities of an adult life have left me desiring more than just a familiar gaming franchise. So here's hoping that the games will bring new life into the site, and that Halo Customs can continue to provide custom games matchmaking that everyone can enjoy!
Hey, maybe I'll see some of you at the HC beach some time. Until then, Teddy out
​
As many of you are no doubt aware, Gamescom is currently going on over in Cologne. 343i will be hosting a Halo panel tomorrow, but there has already been a hearty helping of Halo news today. Below you can find a compilation of all Halo details coming out of Gamescom. I'll keep this thread up-to-date.
Halo 2 Anniversary:
In addition to showing off Delta Halo in all of H2A's next-gen glory, 343i also continued their trend of announcing another of the game's six remastered multiplayer maps at each gaming expo. This time, the map was Sanctuary as many had predicted. The map comes with the expected visual facelift, seeing the map take on a more rundown feel. There is also a lot of flowing water around the map which leads us to the biggest difference between the Sanctuary we remember and this new version. Certain Affinity have put an emphasis on bringing dynamic elements to these maps, and Sanctuary is no exception. Each base houses a switch which can be shot to bring down a waterfall over the base. This wall of water covers several of the entrances into the base. This will
visually
segment the base from the rest of the map which will be both a blessing and a curse for players taking refuge within. The new Sanc also has a darker feel thanks to H2A's lighting engine and, while it looks incredible, there is some concern over whether this will negatively affect playability. In other news, Halo The Master Chief Collection will feature a universal skill-based ranking system meant to be identical to Halo 2's skill rank. This rank will be active across the multiplayer component of
all four
games in the package.
Delta Halo in Halo 2 Anniversary's remastered campaign
Today's videos and screenshots also gave us a better look at H2A's HUD. Weapons now sport convenient HUD markers when players are near them, making weapons on maps noticeable without some of the clunkier aspects of Halo 4's...

​
Hello everyone, and welcome to a somewhat different edition of the Halocustoms Caption Contest! Yesterday afternoon, Duck, Snake, Slaphead, and I went on a fantastic journey to find this weeks' image. Throughout our exploits and shenanigans we created so many lol-worthy scenarios that one image just was not enough. This week, we ask you to caption any of the images below that strike your fancy. The best caption for each image will be used at the end of the contest, and the best overall caption will be used to decide who the winner is. Please number your captions 1, 2, or 3 to show which image they are meant for.
Rules:
1. Please submit a text comment, an image, or a fitting song as a caption for the image above.
2. Submit only one caption per image.
3. Submissions will be judged by a panel of staff based on how funny or fitting they are.

The results will be posted the following week, and the winner will receive a Contest Winner trophy. Good luck and happy captioning!​
Silhouette - Created by Debonair
​
At HaloCustoms we are fortunate to have a great community of map designers that continue to amaze us with their contributions to the huge list of maps that is always growing. We see so many maps from all categories that find new and exciting ways to push the boundaries of Forge. Debonair has achieved a very special map indeed with Silhouette, a small map set on the Ravine canvas.
​
Silhouette gives players the feeling of traversing through ruins with interesting geometry, plenty of jumps and beautiful archways. The map flows well due to the limited play-space in the upper levels encouraging players to use higher positions to traverse the map and rarely for camping. While the upper levels offer good lines of sight, players are very exposed when standing there so the lower levels are great for sneaking around and getting the jump on enemy players. None of the pathways feel too obvious meaning players find themselves creating their own pathways and discovering new routes around the map.
​
Silhouette is a map that uses the terrain on Ravine effectively to create a map that flows very organically while maintaining a high standard aesthetically. This map is strongly recommended for players looking to play some 1v1s, 2v2s and small FFA games.
Check out Silhouette in the HaloCustoms map database
here
.