Halo Customs
​
With the release of the Halo: The Master Chief Collection right around the corner I think it's important that we don't forget to highlight some of the amazing content from around the Halo community that you may not have had the chance to see before. Such curious, much excite
There's no better way to start this off than by sharing a compilation of some well known and some lesser known stunts and tricks from one of Halo Combat Evolved's fan favorite maps Blood Gulch. Now for those of you that are unfamiliar with Blood Gulch I've linked a few pictures below to help jog your memory. This map also asks one of life's greatest questions..."Why are we here?"
Blood Gulch from Halo: Combat Evolved
Hemorrhage from Halo: Reach
Concept art for Coagulation in The Master Chief Collection
all dem perty pictures
Now personally I've never favored myself for being a trick guy due to the fact I can't make simple jumps but I still think it's lag. However one of Halocustoms lesser known members
Mator
(who's alot more talented than me) had set about making a "simple" compilation of 30 stunts and tricks. He originally started this project in 2008 but due to new stunts and tricks being discovered, this would eventually grow to an enormous 400 tricks in which he would spend 7 years not only discovering but, eventually documenting these tricks to share with the rest of the Halo community.
One of Mator's videos demonstrating how to make your very own RC vehicle.

​
However one man can only do so much and with the help of hundreds of contributors, Mator was finally able to...
​
Welcome back for another round of caption-tastic good times! We've finally escaped the confines of Sword Base, and now we move on to something completely different. This video depicts a recent happening from a Halo 4 BTB testing lobby we hosted. Some of you undoubtably know what it is, the rest will have to watch and find out.
All I can say is that it is one of my proudest moments driving a warthog in my life.
​
As we have a video caption this week, music based captions are back on! If while watching this you thought of a very fitting song that could go in the background you may use that as your caption. Remember though that unless it really fits and works well you're probably better off coming up with a text based caption. Good luck to all!
Rules:
1. Please submit text comments or very fitting pieces of music as captions for the image above.
2. Submit only your best caption, only one caption will be accepted per user.
3. Submissions will be judged by a panel of staff based on how funny or fitting they are.
If you would like to download the video file and make some edits, feel free to do so
here
.
The results will be posted the following week, and the winner will receive a
Contest Winner
trophy. Good luck and happy captioning!

​
After last week's triple caption cascade of fun and good times, you probably thought you had seen all of our escapades on Sword Base...
​
This week we bring you a deleted scene from that adventure, where a few of our group decided to gang up on some poor defenseless Hunters with the vast industrial powerhouse that is the Halo: Reach forklift. Why would anyone be so cruel as to bully a Hunter? Why would anyone be so cruel as to take corky so near a Hunter? It is for you to decide!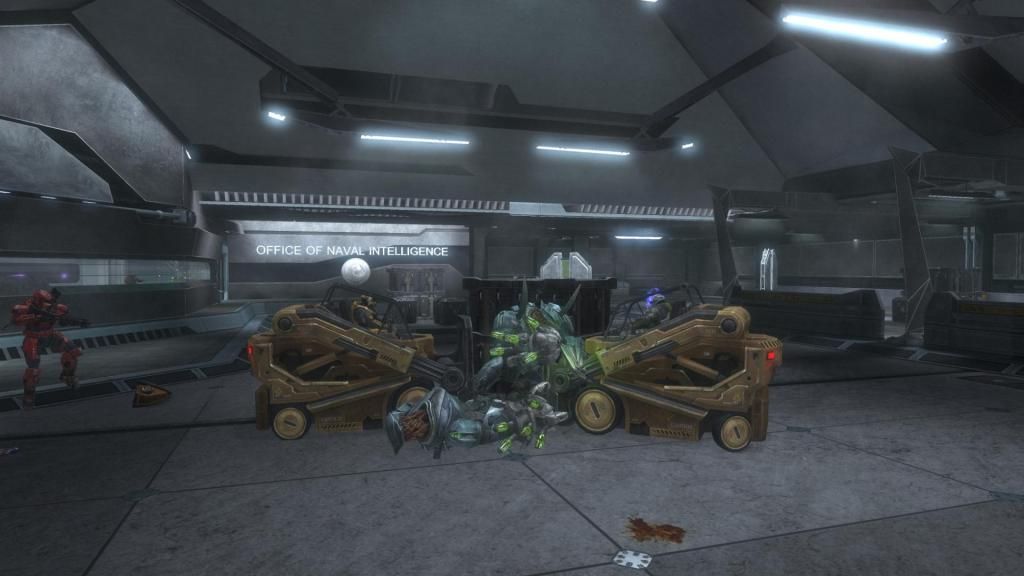 ​
This week we will also be doing text only captions. A lot of the images we have received as caption really haven't made any sense and we'd like to see a bit more effort put into the entries than simply copying a gif into the comments. We'll likely accept images in the future with the stipulation that they must fit well on risk of being deleted, but for this week it's all text. Happy captioning!
​
Rules:
1. Please submit only text comments as captions for the image above.
2. Submit only your best caption, only one caption will be accepted per user.
3. Submissions will be judged by a panel of staff based on how funny or fitting they are.

The results will be posted the following week, and the winner will receive a Contest Winner trophy. Good luck and happy captioning!​
Hey guys,
It's been an awesome ride, but there comes a time for everyone where they realize that Halo just isn't as big a part their life as it used to be. It's been an amazing experience being apart of this. I feel incredibly privileged to have been given the chance to be so much as a staff member here, but from this point onward I feel it would be nothing but dishonest to remain as such, let alone an Administrator, without the passion and ambition that was first there. Long story short, this is my resignation.
For the staff:
I'll see if I can blue myself again, though it may be that
Insane
will need to remove the admin abilities. Thanks so much Insane for the opportunity to be an administrator - a role I'd desired for so many years in the Halo Community. It's been a long and unique four year experience across both ForgeHub and HaloCustoms, and one of my fondest memories are of the first months following HC's release. The people, the electric potential, the games - and hell those Staff vs. Communities were a blast!
So thanks, everyone. I can't truly see myself buying an Xbox One and keeping up to date with all the new Halo titles. Priorities of an adult life have left me desiring more than just a familiar gaming franchise. So here's hoping that the games will bring new life into the site, and that Halo Customs can continue to provide custom games matchmaking that everyone can enjoy!
Hey, maybe I'll see some of you at the HC beach some time. Until then, Teddy out
​
As many of you are no doubt aware, Gamescom is currently going on over in Cologne. 343i will be hosting a Halo panel tomorrow, but there has already been a hearty helping of Halo news today. Below you can find a compilation of all Halo details coming out of Gamescom. I'll keep this thread up-to-date.
Halo 2 Anniversary:
In addition to showing off Delta Halo in all of H2A's next-gen glory, 343i also continued their trend of announcing another of the game's six remastered multiplayer maps at each gaming expo. This time, the map was Sanctuary as many had predicted. The map comes with the expected visual facelift, seeing the map take on a more rundown feel. There is also a lot of flowing water around the map which leads us to the biggest difference between the Sanctuary we remember and this new version. Certain Affinity have put an emphasis on bringing dynamic elements to these maps, and Sanctuary is no exception. Each base houses a switch which can be shot to bring down a waterfall over the base. This wall of water covers several of the entrances into the base. This will
visually
segment the base from the rest of the map which will be both a blessing and a curse for players taking refuge within. The new Sanc also has a darker feel thanks to H2A's lighting engine and, while it looks incredible, there is some concern over whether this will negatively affect playability. In other news, Halo The Master Chief Collection will feature a universal skill-based ranking system meant to be identical to Halo 2's skill rank. This rank will be active across the multiplayer component of
all four
games in the package.
Delta Halo in Halo 2 Anniversary's remastered campaign
Today's videos and screenshots also gave us a better look at H2A's HUD. Weapons now sport convenient HUD markers when players are near them, making weapons on maps noticeable without some of the clunkier aspects of Halo 4's...